Discover more from ChinAI Newsletter
Jeff Ding's weekly translations of writings from Chinese thinkers on China's AI landscape
Over 17,000 subscribers
ChinAI #116: China's "Best and Brightest" -- Where do they go after graduating?
Talent trajectory data on Tsinghua University and Peking University grads (2015-2019)
Greetings from a world where…
the term "best and brightest" is often misused, failing to carry the tone or irony that the original intended.
…As always, the searchable archive of all past issues is here. Please please subscribe here to support ChinAI under a Guardian/Wikipedia-style tipping model (everyone gets the same content but those who can pay support access for all AND compensation for awesome ChinAI contributors).
Context: From sciencenet.cn (科学网), platform for science-related news and blogs, which in the past has featured posts with spicy debates and scandals involving Chinese scientists. This article is more matter-of-fact, drawing on data recently released by Tsinghua and Peking re: the whereabouts of their graduates. The article's hook takes on a common narrative on the Chinese interwebs — that Tsinghua University and Peking University have become a base for training talents for the U.S.
Key Takeaways:
Over the past five years, about 16% of Tsinghua and Peking graduates have gone abroad for further studies. This has held steady, and the article states that it is not as high as some Internet rumors. Figure below displays the Tsinghua talent trajectories. The second row gives the graduates that go abroad for further studies; the three columns are divided up into Bachelor's graduates, Master's graduates, and PhD graduates. For those interested in diving deeper, I translated the figures and put up the tables for both schools in this Google Sheet.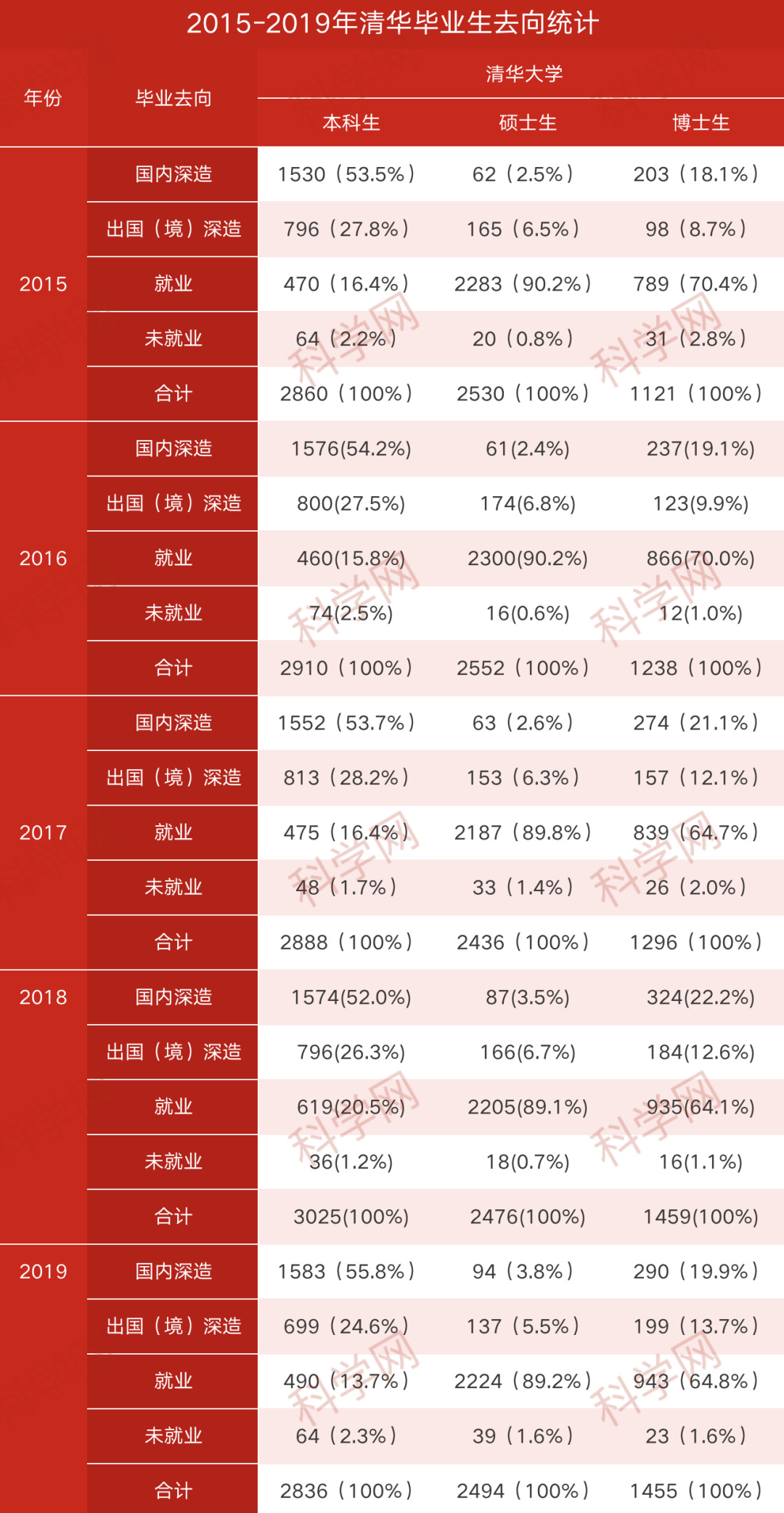 Still, the U.S. is overwhelmingly the top choice for Tsinghua/Peking graduates who do go abroad: 70%! of them pick the U.S., with the UK at a distant second (8%). Graph below shows this for Peking University. The first horizontal bar shows that 61% of Peking graduates, among those who study abroad, pick the U.S. as their destination.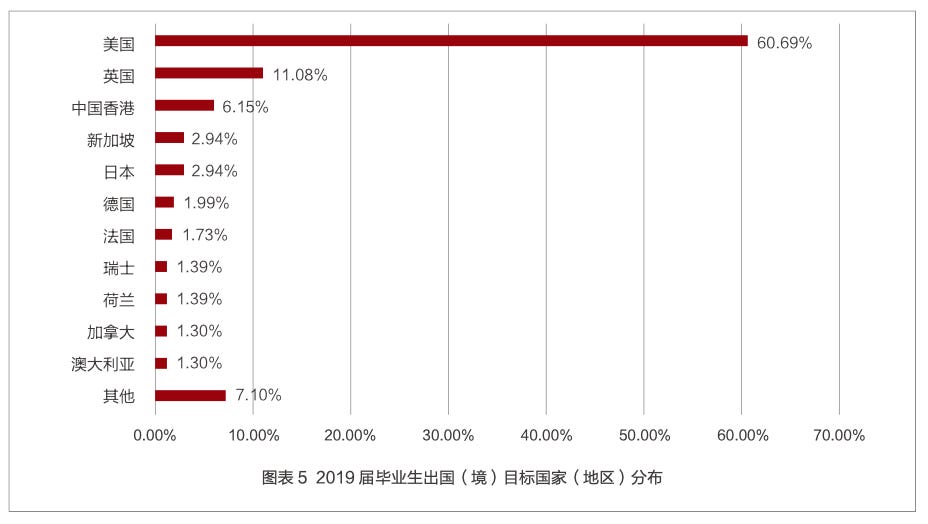 They tend to go to pretty good schools, at least according to the Times Higher Education World University Rankings. In the past five years, more than 60% of Tsinghua University graduates studying abroad have studied in the top 50 universities in the world, compared to 57% of Peking University graduates.

Huawei has become the company that recruits the most graduates from Tsinghua and Peking, with a total of 1,248 people in the past five years. Here's a translated version of a table from the article, showing the top 5 employment destinations over the past five years:

More detailed breakdowns on those three trends in the FULL TRANSLATION.
ChinAI Links (Four to Forward)
Speaking of getting hard data to dispel Internet rumors…
Jacob Feldgoise and Remco Zwetsloot in a CSET analysis: "In recent years, concern has grown about the risks of Chinese nationals studying science, technology, engineering and mathematics (STEM) subjects at U.S. universities. This data brief estimates the number of Chinese students in the United States in detail, according to their fields of study and degree level. Among its findings: Chinese nationals comprise 16 percent of all graduate STEM students and 2 percent of undergraduate STEM students, lower proportions than were previously suggested in U.S. government reports."
By Lydia DePillis for ProPublica, an excellent dissection of Trump's trade policy, which doesn't grade out well. Here's a piercing comment from a former USTR staffer — "There's a cadre of 75-year-old white men in the trade realm who just want to turn back the hands of time," said another staffer. 'They don't understand that the world has changed.'" But, overall, a balanced take that I think is pretty fair to Lighthizer. Before reading, I didn't know that he had proposed getting rid of investor-state dispute settlement, for instance. A lot of good details about China trade policy too.
Xinmei Shen of SCMP covers facial recognition systems in residential neighborhoods. Article has some comments from me as well as some of Prof. Lao Dongyan's pushback against residential neighborhood adoption of these systems — recall that we highlighted this story in an Around the Horn issue back in September.
I'm the guest on this latest episode of The Economist's Asia Perspectives podcast. It's a quick-hitter, 30-min episode — thanks to Jason Wincuinas and their podcast team for the good, wide-ranging conversation.
Thank you for reading and engaging.
These are Jeff Ding's (sometimes) weekly translations of Chinese-language musings on AI and related topics. Jeff is a PhD candidate in International Relations at the University of Oxford and a researcher at the Center for the Governance of AI at Oxford's Future of Humanity Institute.
Check out the archive of all past issues here & please subscribe here to support ChinAI under a Guardian/Wikipedia-style tipping model (everyone gets the same content but those who can pay for a subscription will support access for all).
Any suggestions or feedback? Let me know at chinainewsletter@gmail.com or on Twitter at @jjding99